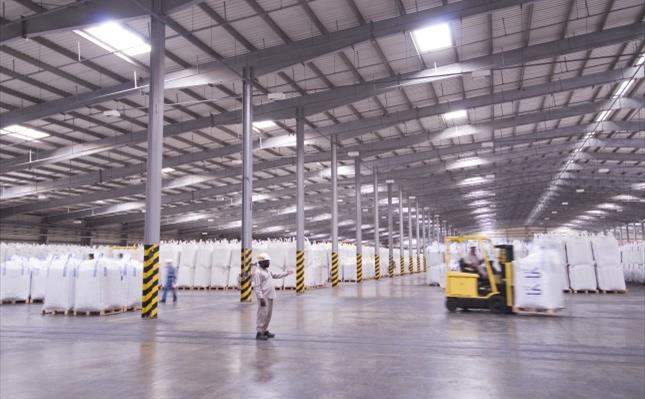 Heavy Duty Bags
Due to the increased intercontinental trade and the transportation of goods, the need for various type of heavy duty shipping bags to protect free-flowing materials are also increasingly growing. The production of shipping bags is one of the largest segments under industrial packaging for film converters.
SABIC has developed several PE and PP film grades for heavy duty bags. SABIC portfolio solutions combine high impact and seal strength to reduce the risks of breakage.
SABIC SOLUTIONS FOR HEAVY DUTY BAGS POTENTIALLY OFFERS:
SUPEER™ Metallocene Linear Low Density Polyethylene (mLLDPE) rich formulations are resulting in an increased package integrity and bagging line speed due to its improved sealing performance
Use of higher percentage of SUPEER™ Metallocene Linear Low Density Polyethylene (mLLDPE) material may provide higher bag drop performance which enables down gauging up to 100 microns.
A dedicated SABIC technical team is supporting any local needs with respect to ever increasing regulations such as an improved pallet stability.
Commercial solutions available for recycling of HDB. (Bag 2 bag project).
Commercial solution of mixing re-grinded heavy duty bags with prime materials for the packaging of non-food resins at selected SABIC sites in Europe.
POTENTIAL APPLICATIONS
Heavy duty shipping bags are used for goods such as:
Petrochemical products
Fertilizer
Food
SABIC MATERIALS FOR STRETCH HEAVY DUTY BAGS APPLICATIONS:
These are just a few examples of SABIC's materials. For specific product selection, please contact SABIC technical team. You can find more about SABIC material solutions by clicking on the relevant product line below.
SABIC® POLYMER FOR BLOWN FILM PROCESS
SUPEER™ Metallocene Linear Low Density Polyethylene (mLLDPE)
SABIC® LLDPE POLYMER
SABIC® LDPE POLYMER
SABIC® HDPE POLYMER