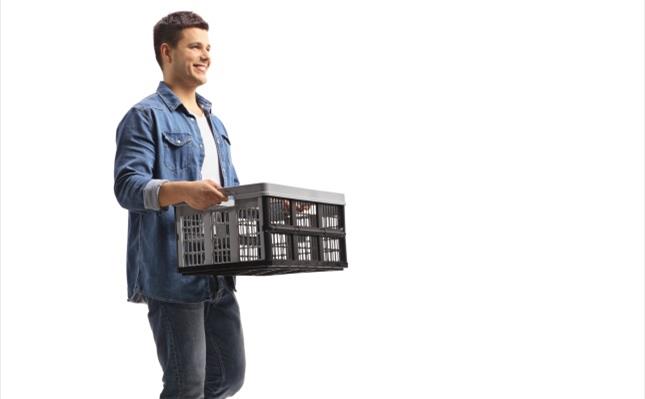 Crates & Boxes
For today's consumer convenience, crates and boxes are playing an important role in protection, storage and transporting goods. Crates and boxes provide the convenience of easy handling and moving goods around. They are also stackable in order to save the spaces during shipping and warehouse storage. These requirements could be supported by lightweight material that has a well balance of rigidity and impact. SABIC's packaging product portfolio offering polyethylene and polypropylene grades with broad range of melt flow indexes, densities and processing window may support versatile product design for crates and boxes.
SABIC SOLUTIONS FOR CRATES & BOXES POTENTIALLY OFFERS:
Good flowability and good pocessability with fast crystallization supporting shorter cycle time and higher throughput.
Good mechanical properties offering good stiffness-toughness balanced leading for high stackability with sufficient drop impact resistance.
Equipped with UV stabilized grades suitable for outdoor application.
Down gauging possibilities.
Compliance with food contact applications.
POTENTIAL APPLICATIONS
Crates and storage boxes for:
Beverages and bottles such as alcoholic drinks, soft drinks, etc.
Storage for food and non-food such as vegetables and fruits produced in farms, household goods, industrial items, etc.
SABIC MATERIALS FOR CRATES & BOXES:
These are just a few examples of SABIC's materials. For specific product selection, please contact the SABIC technical team. You can find more about SABIC material solutions by clicking on the relevant product line below.
SABIC® HDPE POLYMERS
Broad melt index and density range, good balanced of stiffness-toughness for injection molding applications.
| Product Grades | Applications |
| --- | --- |
| M40053S | Storages boxes, bins |
| M40060 / M40060S | Containers and pails |
| M453SE | Waste containers on wheels and household containers, crates & boxes (pallet boxes, pallets, boxes applied at low temperatures) and pails & container applications (industrial, shipping) |
| M80064 / M80064S | Beer crates |
| M864SE (SG) | Cases, crates, trays, industrial pails |
| M864EG | |
SABIC® PP POLYMERS
Broad melt index and density range, good balance of stiffness-toughness.
| Product Grades | Applications |
| --- | --- |
| 56M10 | Crates and boxes |
| 57MNK10 | Pails, crates and boxes |
| PHC31 | Pails, crates and boxes |
| 83MF10 | Crates and boxes |
| PHC26 | Crates and boxes |
| PHC27 | Crates and boxes |