Anas Kentab
Executive Vice President, Europe Repositioning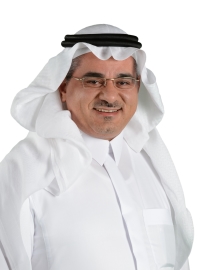 Before assuming his present position, Mr. Kentab served as Executive Vice President of Crude Oil to Chemicals (COTC) project. Prior to that, he served as Executive Vice President of the Agri-Nutrients strategic business unit. He has held a number of senior positions at SABIC, including the post of Vice President of a number of business units, such as Polyethylene, Polypropylene and Olefins and Industrial Gases. He was also the General Manager of Intermediate Operations and Planning.
He began his career at SABIC as Project Manager for Sharq. He held several positions in the former Intermediates business unit, where he managed financial and business reporting, strategy and investment planning, and operations planning. He was also a business manager for the monoethylene glycol business.
He was a member of the boards of Kemya, Sharq, Safco, Al-Bayroni, Sadaf, Yanpet, SSTPC, and SOCC.
Mr. Kentab holds a Bachelor's degree in Mechanical Engineering from King Saud University in Riyadh.
He has undertaken several management and executive leadership programs in GE, INSEAD, IMD, and London Business School.