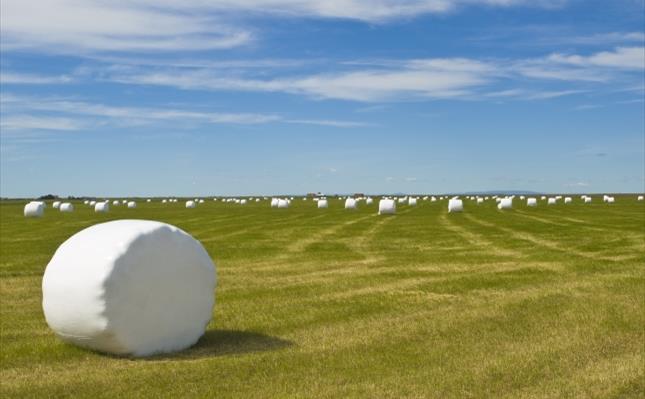 Silage Wrap Film
SABIC works continuously with convertors, contractors and farmers to develop advanced solutions to prevent forage contamination or spoilage and support eco-system. 
SABIC emphasizes on improving the sustainability footprint of agricultural stretch films by replacing polyisobutenes (PIB) with SABIC COHERE™ resins, our newest bimodal octene metallocene PE portfolio to get great mechanical properties combined with outstanding processability.
SABIC SOLUTIONS FOR SILAGE WRAP FILM POTENTIALLY OFFERS:
Added value of COHERE™ as film tackifier resulting in:
Increased stickiness of the surface
Avoiding deposits on the pre-stretch rollers (no downtime)
More economic solution versus PIB
Simplification of recyclability process 
Resource efficiency using SUPEER™ material for:
Down gauging opportunities
High tensile strength at low stretching; right neck-in
High tear strength and puncture resistance
POTENTIAL APPLICATIONS
Silage wrap films to preserve grass, crops and other organic components.
SABIC MATERIALS FOR SILAGE WRAP FILM APPLICATIONS:
These are just a few examples of SABIC's materials. For specific product selection, please contact SABIC technical team. You can find more about SABIC material solutions by clicking on the relevant product line below.
SUPEER™ Metallocene Linear Low Density Polyethylene (mLLDPE)
COHERE™ Metallocene Polyolefin Plastomer (POP)