Samir A. Al-Abdrabbuh
EXECUTIVE VICE PRESIDENT, Strategic Growth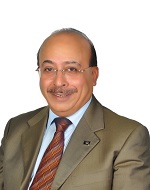 Samir Al-Abdrabbuh assumed his present position as Executive Vice President, Strategic Growth, on January 1, 2022, drawing on more than 35 years of experience in the petrochemicals industry. 
Before this position, he was the Executive Vice President, Agri-Nutrients, and previously the Vice President, Global Supply Chain, leading SABIC's Supply Chain Strategies, Supply Chain Excellence and Global Value Chain Planning & Optimization.
He has also held the post of Vice President, Oxygenates, leading SABIC's global business of Methanol, MTBE, NDA, 2EH, DOP, IBAL, N-Butanol, Iso-Butanol, ACN, NaCn, and MMA. 
Earlier, he held the position of Vice President, Global Corporate Communications, leading SABIC's Global Branding, Global Media, Internal Communications, Events & External Relations, and Corporate Social Responsibility.
Mr. Al-Abdrabbuh was also Executive General Manager of the SABIC affiliate, TAYF, where he played a key role in the company's successful business re-focus, leading a complete operational, financial and legal restructuring and transformation process.
He has held a number of prominent leadership positions in SABIC's wholly owned affiliate Petrokemya, where he successfully led a diverse range of functions covering Technical, Operational, Projects, ERP Implementation and Finance Management roles. He also served as Secretary, Board of Directors.
Mr. Al-Abdrabbuh is currently Chairman of the Board of Directors of Al-Bayroni; Vice Chairman, SABIC Agri-Nutrients Company; and Member, Board of Directors, National Sustainable Agricultural Research and Development Center (Estidamah).
The other key positions he held were Chairman of Board of Directors of SABIC affiliates, Sabtank and Chemtank; Chairman of the Board of Directors, SABIC Supply Chain Services Company (SSCS) and head of the Transformation Board Committee of  SABIC Agri-nutrients Company; Vice Chairman of GPCA Fertilizers Committee; Board Member of Arab Fertilizers Association (AFA); Board Member of International Fertilizers Association (IFA); Member of the Board of Directors and Managing Director of Gulf Petrochemical Industries Corporation (GPIC); and Board member of Ibn Sina and Shrouq companies. He had also held the post of Chairman of the Board of Directors of Asia Clean Fuels Association (ACFA), and Chairman of Saudi Organometallic Chemicals Company (SOCC) during its formative years. 
A graduate of the King Fahad University of Petroleum & Minerals, where he earned a BSc in Computer Science & Engineering, Mr. Al-Abdrabbuh has also completed many professional courses in world-class institutions such as London Business School, UCLA and the University of Michigan.